TikTok Launches Bitmoji Look-alike Avatar Online
As we increasingly engage in virtual interactions, digital avatars will play an increasingly important role in representing our true selves. As a result, various platforms are working to develop the most excellent 3D avatar tools to connect users with their programs better.
After a brief pause, TikTok has launched its avatar-creation tools.
When a user is ready to create a new character, they can do so by selecting an avatar from the "Effects" panel in the camera view.
"Choose from an array of hairstyles, accessories, piercings and makeup, to create a TikTok Avatar that reflects your personal look and style. After your Avatar is ready, you can start recording videos. As you gesture and move, your Avatar will mimic your motion."

TikTok
You may use the app similarly to Apple's Memoji, which lets you manipulate a digital puppet by pointing the camera at it and making it move in reaction to your actions.
Tiktok Private Account Viewers: Which One is Best?
Tiktok Follower Comparison: 4 Best Live Counters [2022]
In many ways, TikTok's avatars resemble this, down to the witty style – albeit the characters also contain a "miniaturized avatar" capability, which I believe will be the primary usage of choice at least initially.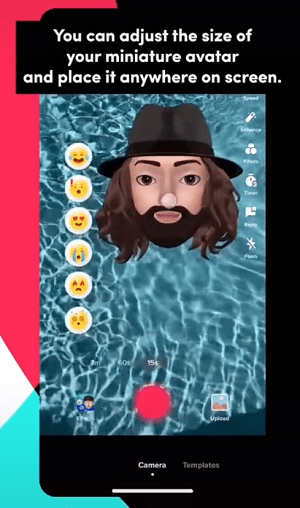 The miniature mode will let you apply a custom avatar overlay on your TikTok video, as shown here. Your digital figure may interact with TikTok videos and remixes or provide voice-over guidance as a talking head, opening up a slew of new creative possibilities.
However, the true goal here is to stay in touch with the next phase of digital connection and design avatar tools that will gradually match with regular usage adjustments while also helping to retain the link with your presence in each application.
Both Facebook and Instagram allow for the usage of Meta 3D avatars, while Snapchat has its Bitmoji characters that users are also familiar with.
Digital clothes for your virtual personas are already being explored by Meta and Snap, while Meta is also trying to integrate your Avatar into VR and, ultimately, its metaverse vision. TikTok expects that its users will get more attached to their in-app caricatures as a result of this, as they will develop more accustomed to interacting with them.
7 Best Tiktok Follower Generators
However, I believe that in the end, it will come down to the most helpful avatar creation tools, the most configurable and the best-looking, and the most widely available, with the ability to carry your character across apps and platforms.
Dedicated tools like 'Ready Player Me,' on the other hand, come into play.
As with existing video game creation tools like "Fortniteplayer "'s models, Ready Player Me's characters mimic existing styles while offering more customization options that, if they're successful in aligning themselves with the forthcoming metaverse schema, will make the platform more appealing and engaging (i.e., its characters are transferable across various platforms).
Because the systems haven't yet been developed for this, we can only speculate about how it will work. Still, the best avatar tools will allow for universal compatibility.
For the time being, Meta is working on its photo-realistic avatars.
TikTok Live Subscription to Go Live on May 26
How to Hide Followers on TikTok?
It's not yet clear if users want to seem like themselves online or want a more personalized, cartoonish form that better portrays how they desire to look?
This is more realistic, and I wouldn't be surprised if Meta attempted to acquire a tool like Ready Player Me in the future to expand its avatar creation choices and appeal to younger consumers.
Because of this, TikTok may be starting from a disadvantage. Nonetheless, the app's metaverse transition must begin somewhere, and these essential avatar tools are the first step.