Netflix Demands "Extra Home" Fees After Recent Price Hike
Over the past four months, Netflix has been cracking down on account sharing by instituting a new "additional user" cost for those who choose to share their subscription with persons other than those living in the same household.
Netflix announced it would review the new $2–$3 monthly member price launch in Chile, Costa Rica, and Peru before implementing the move in other countries.
On Monday of this week, Netflix said it would begin charging a new price for account sharing. In addition, further fees for "additional dwellings" will be implemented on August 22nd in some countries.
"As of the 22nd of August, 2022, you'll be charged for an additional $2.99 per month for each other residence in which your Netflix account is being used. However, this additional home cost will NOT be assessed unless you or someone using your account actively requests it, "The Honduras billing section on Netflix confirms.
In the Dominican Republic, El Salvador, and Guatemala, the monthly cost for an additional dwelling is $2.99. The monthly fee in Argentina is 219 pesos, which is approximately $1.70 in American currency. It appears that by the end of the year, Netflix plans to implement a price or penalties for sharing accounts on a more widespread basis.
Netflix has not yet announced whether it will use a single charge structure, give subscribers the option between the additional home and additional member payments, or come up with a third pricing tier for its next global deployment.
However, according to yesterday's release, Netflix wants to "be as cautious as possible about how we charge for use across multiple residences" and "will not make adjustments in other countries until we better understand what's simplest for our customers."
Netflix plans to launch an ad-supported tier in addition to its existing ad-free offerings in response to slowing revenue growth.
According to the company's financial report published on Tuesday, Netflix has pushed back the launch of its ad-free subscription and the introduction of account-sharing fees to 2023, with the ad-free option slated for the first quarter of that year.
How to Transfer from Coinbase to Coinbase Pro Instantly?
What Is a Sweaty Startup? How to Start It With 10 Genius Ideas?
Netflix 'Extra Home' Fee
For security reasons, Netflix will restrict the number of additional households per membership. If you're on the Standard Plan, you can add up to two more houses, and if you're on the Premium subscription, you can add up to 3.
Prices in the Dominican Republic, El Salvador, Guatemala, and Honduras range between $7.99 to $13.99 per month for Netflix's Basic, Standard, and Premium packages, respectively. In the United States, costs can be between $9.99 and $19.99.
In addition, the total number of viewers is capped at various tiers, although this cap is determined by the number of screens available rather than the number of physical locations.
Here's the screenshot confirming the same: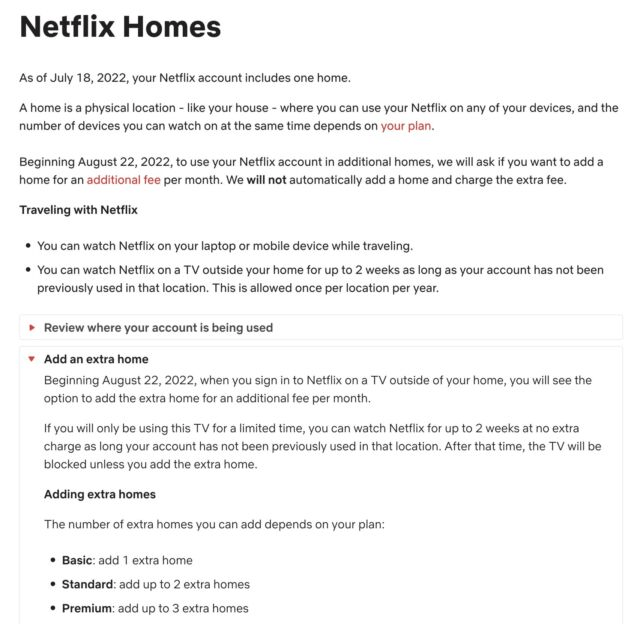 What do you think of Netflix's strategy to block its usage in other homes?
Do share your thoughts in the comments section below.