How Do You Stop Read Receipts on Telegram?
With over 500 Million users in 2022, Telegram became WhatsApp's biggest competitor in the messaging app space.
Since its official release, Telegram has rolled out many new features that WhatsApp can never catch up with.
Although Telegram has almost every new feature necessary for a messaging app, it's still missing something Telegram users have been demanding for so long.
It's the feature to stop 'read receipts' on telegram.
So, in this guide, I'll share the exact method to stop reading receipts on Telegram.
Related:
11 On-Demand Facetime Not Working Solutions [2022]
What is 'Read Receipts' on Telegram?
Suppose you send or receive a message on Telegram, then you can see a receipt below your message. It looks like this –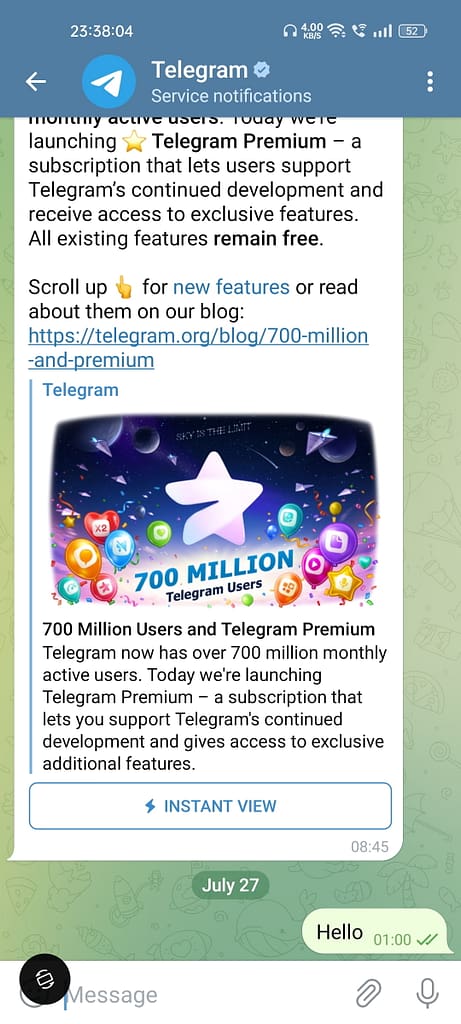 Telegram or even WhatsApp uses this to indicate whether the message sent or received is sent, delivered, or read.
1 Tick means the message is sent to the recipient.
2 Tick means the recipient has received the message.
The change in 2 ticks means the recipient has read the message.
Now what many telegram users are asking for is a way to stop the read recipients indicator on the telegram app.
Is there a way? Let's figure it out.
Can You Stop 'Read Receipts' on Telegram?
Sadly, there's no way for you to disable reading receipts on Telegram.
What does this mean?
This means officially, you can't stop others from finding out whether you've read their message or not.
But this doesn't mean it's impossible.
I agree; you can't disable read receipts on Telegram. Instead, there are some tricks you can use to read the telegram message without letting the sender know about this.
Related:
How to Read Unsent Messages on Messenger?
4 Tricks to Bypass Read Receipts on Telegram
Enable Notifications on the Lockscreen
When you enable Message Previews in the Telegram app, you can discreetly scan your incoming messages from the lock screen and the notification drawer. Here's how you can enable the notifications:
Access your Telegram preferences by clicking the left-hand "Hamburger" menu.
Select Preferences from the menu.
Make your choice in the Notifications and Sounds menu.
Make a choice among Private Conversations, Group Discussions, and Channels to specify which type of communication this option affects.
Turn on the Message Preview feature.
That's it.
You've successfully bypassed the Read Receipts on Telegram to start reading the message.
Switch to Airplane Mode
Switch to Flight mode on your device to check a Telegram text without drawing attention to yourself.
Once enabled, open the chat in the telegram app & read the message.
Stop using it and take it off of your list of recently used websites when you're done reading.
Restart your device, then turn off the"Airplane mode," and use your smartphone as you usually would.
Using a "Spy and Sniff" Strategy
You can use this feature of Telegram to read the most recent messages sent or received without being detected.
Be aware that this approach only displays the most recent conversations.
For this reason, it will not be able to give you a complete transcript of the chat.
Here are the basic instructions for using this strategy:
If you want to check in on a conversation on Telegram, you must run the telegram application and find the conversation in concern.
To view the latest chat message, tap and hold the user's profile photo in the conversation list.
This way, the messages won't be labeled as read.
Use Third-Party Modified Apps
Disclaimer: I don't recommend using this method without proper research.
If none of these strategies work for you, using a third-party modified telegram app is the last resort.
Generally, these modified apps add specific features that you don't get with the original version of the app.
For instance, the modified WhatsApp app adds theme options, hides blue tick, group creation with 'n' number of members, and more.
However, this modification in the original app files allows third parties to secretly add a code to use it as spyware.
Conclusion
Officially, there's not a single guide that can help you disable read receipts on Telegram?
But if you follow all the tricks explained in this post carefully, you can quickly stop others from reading receipts on telegram.