How Much TikTok Pays for 1 Million Views in the US? [2022]
When Bytedance launched TikTok in 2016, it was meant to be a social media platform to create, share, and discover short videos.
But now times have changed!
Not just Gen-Z, millennials are on TikTok and looking for ways to monetize their video content.
And there's a reason for that.
After a decade-long search monopoly, Google has a significant threat as Gen Z is bypassing Google for TikTok as a Search Engine.
Considering that, I'll share the TikTok earnings of my pet project. Once revealed, you could see how much TikTok pays you for 1 Million views.
Not just that, I'll also compare these earnings with the two biggest competitors of TikTok – Instagram reels and YouTube Shorts. So, stay tuned –
How Much Do You Earn From 1 Million Views on TikTok?
Here's a screenshot of my TikTok earnings –
As you can see, I earned $62.78 on 2 million TikTok video views. So, here you earn at least $30 on 1 million views.
What did you think? Would it be like YouTube?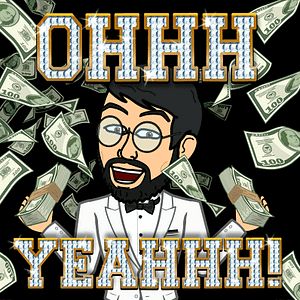 Sadly, let me break it to you – It's nothing like that!
The earnings you get from TikTok views is nothing compared to what YouTubers earn from their long YouTube videos.
I know it's not much but let me remind you, that's not the only way you can monetize your TikTok followers.
There are other ways to monetize your TikTok followers and make the most of your earnings.
It's so much more that you'll not even care about your earnings from TikTok Video Views.
But before I share this course of action, let's compare the earnings from TikTok with those from TouTube Shorts & Instagram Reels.
TikTok vs YouTube Shorts vs Instagram Reels: Which App Pays More?
Disclaimer: I'm not actively using YouTube Shorts and Instagram Reels. So, I'm unable to share my earnings from them. But don't worry; I'll share the earnings of one of the most popular YouTube Shorts and Instagram Reels creators.
YouTube Shorts Earning 1 Million Views
With TikTok emerging as direct competition in search engines, Google is pushing for YouTube shorts on their YouTube app.
That's why last year, they introduced a $100M YouTube Shorts Fund to reward creators for dedicating their time to creating Original short content. So, if your channel qualifies, you're eligible to receive funds between $100–$10,000 each month.
Now coming back to the earnings, how much does YouTube Shorts pay its creator for 1 Million views?
Here it is –
As you can see in this screenshot, the creator received $235 for approx. 7.8M views. So, as per my calculations, YouTube is paying at least $30 for 1 million views.
Disclaimer: The YouTube shorts payment per 1 million views may vary from creator to creator.
Instagram Reels Earnings 1 Million Views
Similar to YouTube Shorts, Instagram offers bonuses to eligible creators.
But, how they pay out the money differs from YouTube and TikTok.
Let me explain how –
Instagram sets some Reels Play targets for you. Once you've reached there, you'll receive the specified payout in your account.
For instance, take a look at this screenshot: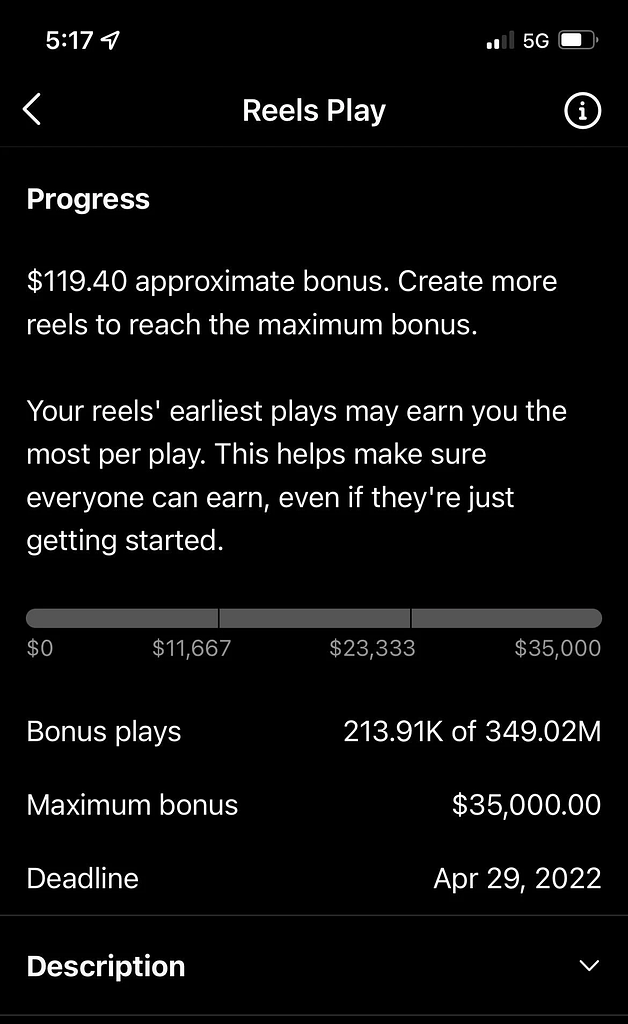 Here, Instagram creators can receive a bonus ranging from $0 to 35,000 once they achieve the target of 349.02 million bonus plays.
So, if my calculation is correct, eligible Instagram creators earn around $100 for every 1 million views.
Disclaimer: The Instagram Reels payment per 1 million views may vary from creator to creator.
Related:
How to Hide Followers on TikTok?
Ways to Leverage TikTok Followers and Earn Money
Don't get disappointed if you feel like TikTok isn't paying you enough for your effort.
Instead of focusing on getting money from TikTok, you should create content to gain new followers and then leverage them to create multiple income streams for yourself.
Let me give some good examples –
Affiliate Marketing
The first effective income stream you can have is affiliate marketing.
To set this up, you must sign up for a product related to your niche that offers affiliate services.
Once your account is created, create your unique affiliate URL.
Lastly, share it among your followers to get a chance to earn a commission on every single purchase of the selected product.
P.S. You can even join the TikTok affiliate program to earn a $40 commission on referring every customer that has added money to their account.
Selling Products
Do you have a product and want to sell it?
There's no better way than leveraging your TikTok followers and selling a product to them.
This product can be your –
Or anything in your niche.
Driving Traffic
Have you got a money website or a sales funnel?
In that case, you can navigate your followers there to earn some money.
You can earn from running display ads on a money website, whereas on a sales funnel, you need to convince your followers to buy your product.
Brand Collaborations
Before you collab with a brand, you should find some competitors in your niche.
Spy their profile using the Private TikTok account viewer to note the follower comparison, brands they've collaborated with, etc.
Then reach them through their official channels for brand collaboration deals. Besides, if your content is already going viral, I swear they'll contact you on their own with even a better deal.
Publishing Sponsored Content
The higher the followers count, the higher you can charge for publishing sponsored content on your TikTok profile.
The average price for publishing sponsored content starts at $10 for every 1,000 followers. So, for 1 million followers, you can charge between $1,000 to $10,000.
Besides, the final deal can vary from one brand to another.
Start a Patreon
If you're solely relying on your earnings TikTok Monetization, you ain't doing justice to the content you're publishing.
Shame!!!
Unlike long YouTube videos, TikTok doesn't pay you enough. So, add an income stream, you can start your Patreon and ask your loyal followers to subscribe to it in exchange for gaining access to some exclusive content.
For your better understanding, you can compare it with the membership program on YouTube.
Collect Donations
You can enable donation stickers in your TikTok Videos, live streams, or recently introduced live subscription features.
Announced in April 2020, donation stickers encourage your followers to donate some money and contribute to creating awesome videos.
P.S. Keep an eye out for launching new features on TikTok as they can turn out to be a money maker for you.TikTok Launches Bitmoji Look-alike Avatar Online
Reposting TikTok Videos
I've been creating TikTok Videos for the past 6 months. So, I'll be outright honest with you.
Creating short videos isn't as easy as it sounds, mainly when you publish multiple videos daily.
So, if you're looking to create multiple income streams, you can repost your TikTok videos on Instagram and YouTube to earn money from your competitors.
Not just that, reposting videos can help you gain new followers and go viral in places where TikTok isn't that popular.
Sell Your Merchandise
The last earning stream I'm suggesting is merchandise sale.
If your TikTok profile has gone viral or you've got a loyal following, you should create merchandise based on your theme and try to sell them via your profile.
For instance, let me introduce you to a gay couple with the TikTok username @allieandsam
They've 288.6K followers with 6.3M likes.
The couple is pregnant and on the way to giving birth to a baby. So, they used this as an opportunity and released a merch line for their followers.
Here's a sneak peek at their merch line –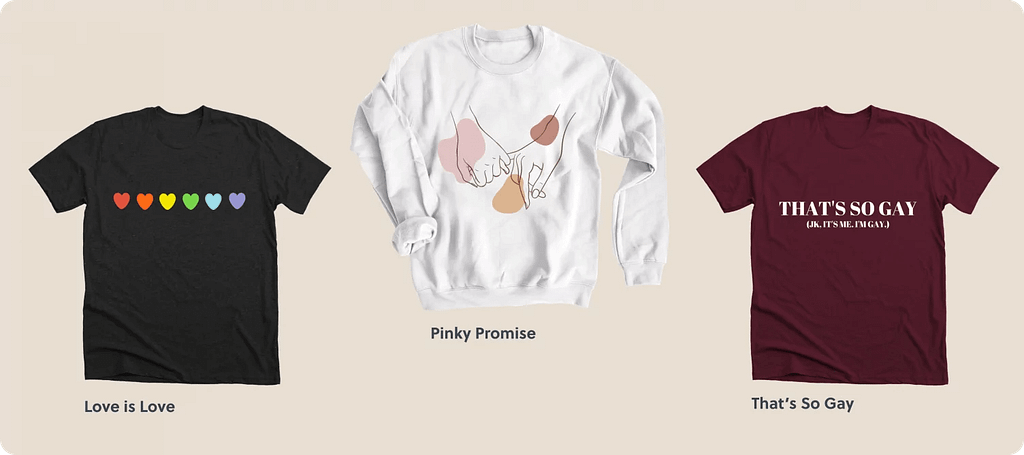 So, just like them, you should create a merch line to add another stream of income for yourself.
7 Best Tiktok Follower Generators
Conclusion
Do you want to earn more from TikTok?
Who doesn't?
But you can't do that without subsequent followers' growth and interactions.
So, even if you've got a million followers but aren't getting enough views or interaction, your searching opportunities automatically gets reduced.
What's the solution?
The only thing you should do is create content for your followers.
Once you start gaining followers, leverage them to create multiple earning streams, as explained earlier.